In 2020 Raiffeisenbank in Russia joined, as a partner, the Russian venture capital market research conducted by the VC research company DSight. Collecting a comprehensive technology startup database and keeping a sustainable professional VC and CVC network allows DSight colleagues to describe the trends accurately every year.
Despite COVID-19 financial and economic consequences, the venture capital market in Russia is actively developing, and below are some excerpts. Although the total volume of transactions decreased by $166 million compared to 2019, their number increased by 35. This indicates both the minimization of investor risks, on the one hand, and the growth of business activity, on the other.
Breakthroughs of the year
OZON is on the NASDAQ, the British startup with Russian origins Arrival attracts €100 million from Hyundai and Kia, and an online cinema ivi.ru (23% of the market) attracts a $50 million venture loan from Alfa Bank in June.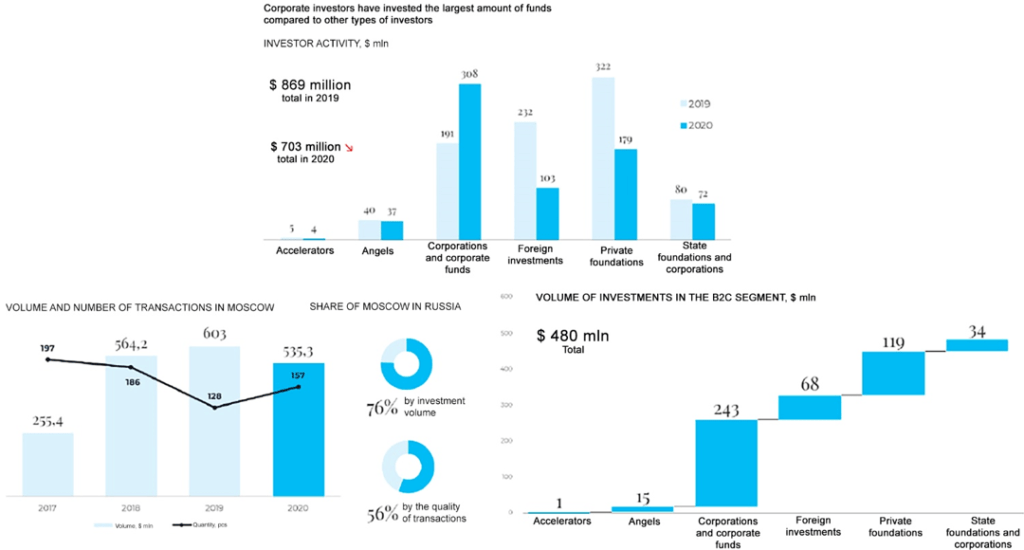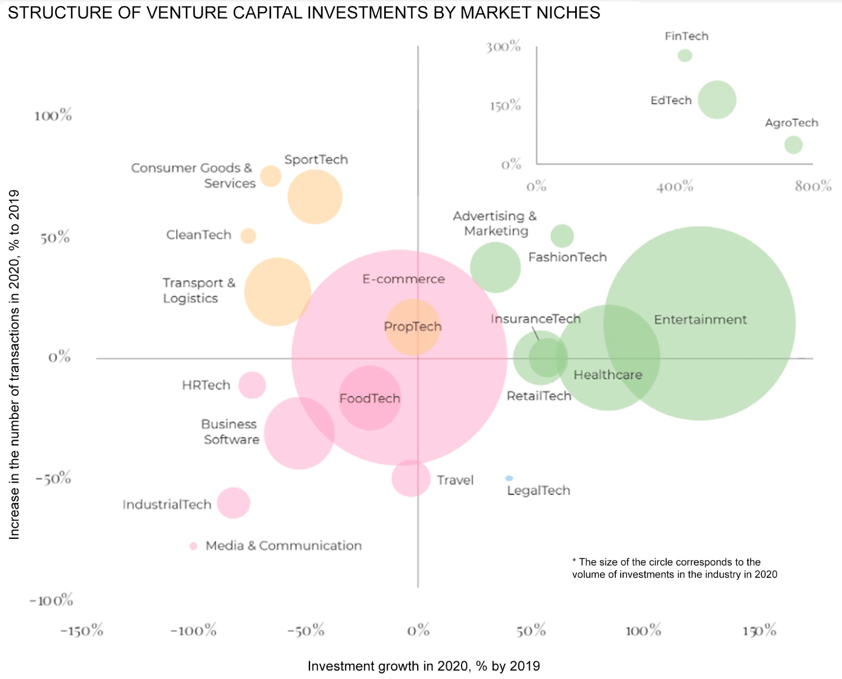 2020 was also marked by an IPOs boom
1415 IPOs were held worldwide with the total volume of $331.3 billion in 2020. In 2019 1040 issuers raised $199.2 billion. The Russian market is no exception to the trend with 3 IPOs in 2020 vs 1 in 2019. If the favorable market conditions continue, we expect an increase in the number of Russian IPOs in 2021.
The E-Commerce market has grown to 2.7 trillion rubles (+39%)
Over the next 5 years, the pandemic contribution will increase the market up to 3.3 trillion rubles. The most actively developing segment is food delivery (+ 79%). Moreover, by 2025, e-commerce penetration outside major cities will increase fivefold — to 13.5% in small towns and medium-sized cities and to 11.7% in rural settlements. Another important trend in 2020 is the development of D2C sales: large Russian companies try to interact with potential customers directly, without intermediaries. Small and medium enterprises prefer to use marketplaces, so the number of those increased by 14%.
Foreign participation in deals increases by a third (up to 24 deals per year)
However, the total investment volume has more than halved to $102.9 million. One of the trends is the foreign investors' interest in distance education projects (IntelliBoard, Studyfree, Lectera and Novakid).
The majority of acceleration programs were suspended, only 34 deals were generated
Only 34 deals were generated out of acceleration programs, which means a reduction by 60% compared to 2019.
The volume of governmental venture capital financing sank by only 10% to $72 million
The number of transactions decreased slightly from 30 in 2019 to 28 in 2020. Therefore, startups looking for governmental support can expect it after June 2021, when the authorities will be ready to come back to the pre-pandemic investment level.
Mail.ru Group's success: 6 deals worth $92 million
EdTech was of particular interest, and the largest deal in the industry was the 25% acquisition in the startup "Uchi.ru", an educational platform for studying the school curriculum in an entertaining form. In addition to "Uchi.ru", Mail Group has invested in three other educational startups: SkillFactory, Tetrica, and Skillbox.
Private funds have reduced their investments by more than 1.5 times (up to $180 million) due to a reduction in the average check
However, the number of deals increased by almost a third (to 84). The largest number was made in the field of education which is 11 investments for total amount – $15.8 million. The impact of the pandemic was reflected in the growing popularity of the healthcare sector (6 deals for $14.5 million) and transportation (6 deals for $3.3 million). Media and entertainment ($50.5 million), IT ($23.9 million), as well as projects related to artificial intelligence ($15.3 million) became the leaders in terms of investment volumes.
Edtech and healthcare: the ups of 2020
In total, educational startups in Russia raised $119.1 million in 36 deals. 79% of them are already at the middle stages of growth, so the Russian EdTech market is in an active phase of its development. The single / limited product or client niche education platforms look more promising due to 2020 data.
Healthcare market grew more than 7 times. The clinics' network Doctor Near received $8.9 million from VEB Ventures, insurance services BestDoctor attracted $7.5 million from several investors, and the diet keeping service Simple received $5 million. 67% of all deals were startups, developing B2C products, for example, helping patients find doctors and arrange appointments in clinics.
The Russian market for green digital technologies in agriculture continues to grow
9 transactions in this industry totaling more than $16 million, while in 2018 and 2019, only 4 were registered. The main spheres: field control, automation of vertical farms and software for managing production and sales of products.
The Moscow venture capital market has performed better than the Russian one in the COVID-19 context
For the first time in three years, Pre-seed investments increased significantly — by 121% in volume and 61% in number of deals. The volume of Seed investments is growing, but only by 3% in amounts, and by 13% in number. These increases in the number and volume of investments in the early stages' startups happened due to the growth of the business angels activity: there were more deals with their participation (by 33%) made in 2020 than in 2019.