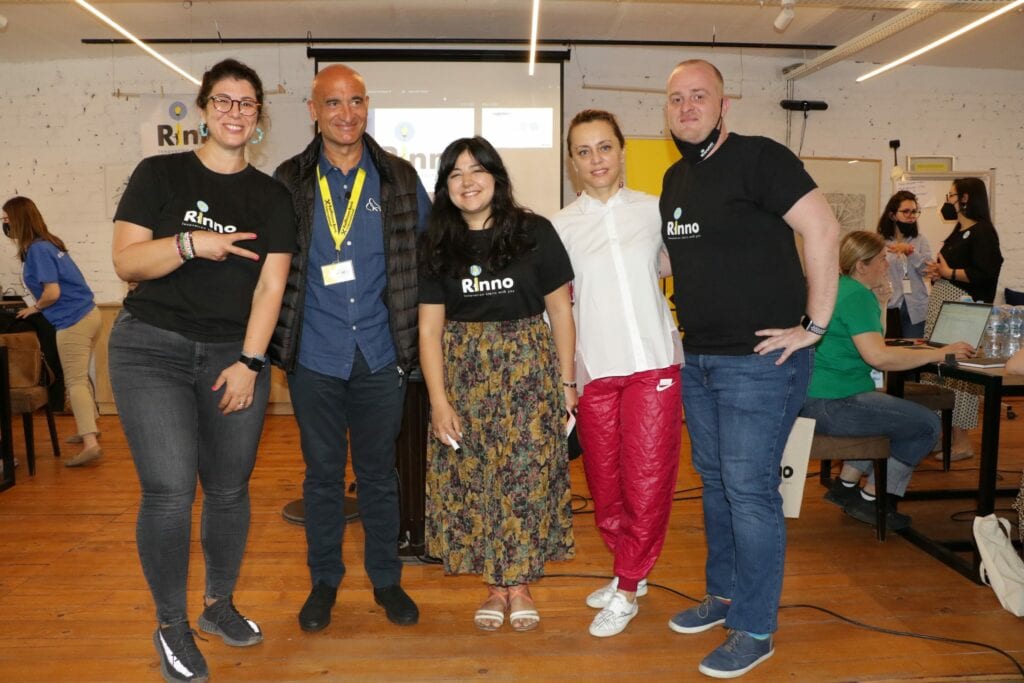 Rinno (which stands for Raiffeisen Innovation) is the name of the innovation team of Raiffeisen Bank in Albania with its members coming from different backgrounds, but all with experience in the field of innovation and with a great desire to bring innovation closer to their colleagues. Although a small team, their commitment goes beyond their size and in less than one year the Rinno brand became well known within Raiffeisen Bank in Albania.
Embracing innovation and making it part of an organization is a lifelong process and requires commitment and motivation, by overcoming different challenges that are faced during the journey. Anila Sallata, Innovation Management Team Leader, shares 6 things Rinno team learned in less than one year.
The mindset is crucial
When it comes to changing, people react differently, some of them accept it naturally, others are afraid and scared of changing – but in our bank every employee is fully aware that without innovation there is no space for improvement.
Each day people understand that transformation is not only inevitable but should be embraced.
We as a team have committed ourselves to including a wide variety of other teams and employees in this process. Since the beginning we have understood that once we make people part of the process and engage them in doing things regularly and within a specific timeline in a fast-changing environment, then the largest part of the job is done.
People are the change, but the process helps
We started by meeting most of our colleagues personally or calling them over the phone in order to talk and explain what, why, and how our team is approaching innovation and the benefits innovation will bring. We met up with people to show them how to become a part of it, because Rinno Team is an enabler of the innovation that comes from different areas of the banking: fulfilling the bank needs with the best solutions on the market or internally developed.
Additionally, we have created Rinno Talks, a regular podcast used to promote teams and employees working on innovative solutions from all areas in the bank. It's an opportunity to share experiences, successes, failures and learnings. The podcast has been widely accepted and embraced, and the viewing and participation are very high.
Notice the hidden talents
There are a lot of employees that, when given the possibility, the tools, and space to expand their ideas, knowledge and expertise, can bring innovation in the company. This was proved in the innovation events such as hackathons and bootcamps that were embraced immediately by a lot of employees.
The best ideas sometimes come from the inside and when these people are given the chance and the incentive to elaborate, develop and implement further those ideas, they can do an amazing things even on top of their regular job. The innovation activities are a good way to bring people together, to motivate them, to discover new talents, and support them throughout the journey.
Be an intrapreneur within your organization
Why should I be or act as an entrepreneur if I am a bank employee? This was one of the questions asked when we started to talk to our colleagues about innovation and the activities in our bank. But once they become part of a cross functional team and saw their ideas taking form, in a faster way and in a safe environment, they started changing their perception. Of course, there are challenges and difficulties but once people are given the opportunity, great things happen.
Agility comes along the journey. Not everyone is a born entrepreneur, but we learned that many of us can be an intrapreneurs.
Make it real
Don't let ideas be killed, not all of them at least – otherwise the motivation and the commitment of people will be killed as well. Make them real, choose the ones with the most potential and use the whole creativity of those involved.
How many times have we been in situations where ideas were killed at the very first moment and no more chances were given to them to be heard or implemented? Yes, a lot! But on our internal Rinno Web, dedicated entirely to our colleagues, every idea is submitted in the "idea bucket" and some of them are presented to the management board to evaluate their potential and feasibility. Making ideas real makes people feel valuable!
If you want to go far, go together
Partnerships, especially those proven to bring innovation from external partners, are crucial as well. Banks and fintechs, if they collaborate, can bring innovation and even impact the overall system and leverage the country's capacities. Fintechs can fill some gaps and are many times faster than an established bank due to the nature of the startup itself. By using the agility of fintechs on the one hand, and the expertise, experience and reputation of the bank on the other hand, the customer experience is highly improved.