Albania is a small country on the Southeastern Europe's Balkan peninsula which takes pride in its big people potential – a country's most valuable asset. Through focusing on its younger generations, Albania is building a talent pool for the future, and Albanian startups are here to help.
This article is the first of two focusing on startups recognizing the value – and working in the field – of education in Albania.
Akademi.al: Education – accessible to everyone and everywhere
Akademi.al is an e-learning platform founded in September 2019. In less than two years, over 17.000 free video lessons by best teachers in Albania have been made available on the platform. During the COVID-19 pandemic, it was the official platform for distance learning in several countries, including Albania, Kosovo, and North Macedonia. Instructors, academies, and other organizations can sell their own courses via the Akademi Marketplace. Building a cloud learning management system (LMS) for private schools, universities, corporates, and government institutions, Akademi.al team states their mission is:
We aim to educate every individual, mainly students, with our interactive methods, by bringing the school closer to you. To encourage everyone, regardless of age, to learn at any time, wherever they are.
In this interview, Dean Celaj, the founder of Akademi.al, provides insights about their startup journey, and talks about the opportunities and challenges in the Albanian startup ecosystem.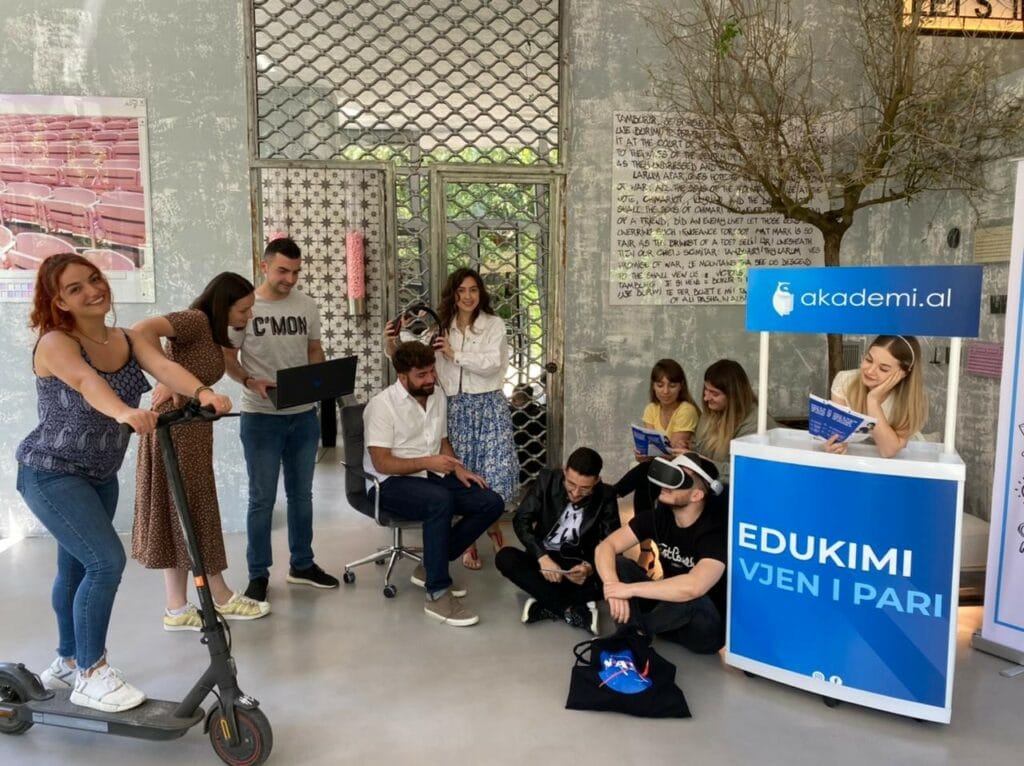 How did you come up with the idea for Akademi.al?
The main priority when I decided to create the startup was to give equal opportunities to students to learn from the best teachers – regardless of their location or economic situation.
There are many students in Albania living in remote areas with no access to quality education. I thought that creating a digital platform with online classes would enable these children to be educated by the best teachers. The government has supported these students by donating learning tablets, which is why I thought of building the software to run on these devices. This is how Akademi.al started – to bring the school to students despite their location or economic circumstances.
What was the journey from the idea until now like?
During my journey to launch Akademi.al, I encountered various difficulties which I managed to overcome. In the beginning, I had to find teachers who would help me create video lessons. I interviewed dozens of teachers and many of them were skeptical. Only a few teachers trusted my vision and were willing to join my journey.
When the schools closed in March 2020 because of the COVID-19 pandemic, I decided to waive all fees and make the platform free of charge for 500.000 students in Albania. We started with just 900 video lessons and we now have over 17.000 free to watch.
What support did you need and get during this journey?
Our team has been crucial to our success since the beginning of our journey. Expert developers, project managers, and content creators are necessary to carry out a project at such a large scale. During the pandemic, Akademi.al was financially supported by UNICEF, the Embassy of the Netherlands, and the British Council.
What was the financial support from the Albanian government or other related parties?
The only financial support came from the partners listed above – Akademi.al was offered free of charge to the Albanian government.
What are the main challenges and opportunities in Albania regarding the startup ecosystem?
Before the pandemic, online education in Albania was adopted at a slow rate primarily due to two factors which remain our main challenges. Firstly, over 80% of our users access our platform via mobile devices, so not many people use laptops or computers for online learning. This is a limitation, especially for teachers, because it is very difficult to teach someone via a mobile phone. We believe that there is a correlation between general computer/laptop use and the quality of online education. Secondly, there are huge gaps in digital skills in Albania. Unfortunately, not everyone is a proficient user of the internet and smart devices. For teachers, students, and parents in Albania, switching from regular classes to online classes was not easy. Many of them did not have the skills to adapt to this new way of learning.
Having said this, I think there are a lot of opportunities in the field of online education in Albania. It has the potential to bring the best teachers to everyone at a much lower cost. We record video lessons with teachers, which is a one-time cost factor, and we distribute to everyone through our platform for free. Paying for private lessons is expensive in Albania, as it is in other countries, and this is where our biggest opportunity for the monetization of the platform lies, which is obviously our ultimate goal.
You were a winner of the ICT Award this year. What does it mean for you to be named Startup of the Year?
Winning Startup of the Year from ICT Awards was important to our team. It was a special feeling to see that our work was finally being recognized and promoted. Even after the award ceremony, the ICTS Media team were incredibly helpful. They referred Akademi.al to several other events and programs and we are extremely thankful to them.
What is your vision for Akademi.al, and how to you see its future?
By 2050, I believe that in developed countries around 90% of education will be conducted online. Online learning platforms lower costs while, in my opinion, increasing the quality of education. Personally, I think that the blended learning approach works best because it combines the benefits of technology with in-person classes. Akademi.al is expanding to other forms of education such as university, vocational, and professional teaching. Our mission is to improve the quality of education in Albania; however, our vision is to become a global company and create even more innovative products and services.